Our Heritage
The stud was formed in October 1967, at " Torr Down ", Kingston, South Devon, England. 
Torr Down South Devons were exported to Brazil, Canada, China, Ireland, New Zealand, South Africa, U.S.A., Zambia.
Emigrated with family and a nucleus of 22 South Devons, to Victoria, Australia in 1982.
Including :-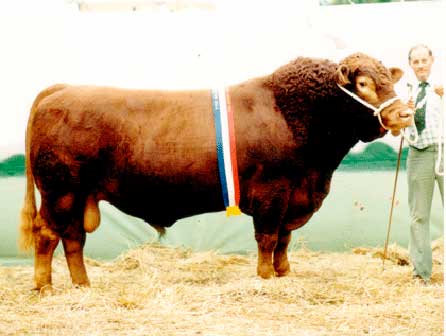 TORR DOWN GALAXY 11 POLL [Age 5 ]


TORR DOWN AUDREY 5 [Age 12 ]
Both Breed & Interbreed Champions, at Royal & Country Shows in Australia.
---
Polling has been developed since 1980,with only superior type animals retained. Occasional introduction of top English Poll and Horn bloodlines to widen the genetics, now sees the stud 100% poll.
TORR DOWN NATALIE 53 POLL & NATALIE 86 POLL
PADDOCK TO PALATE
Winner of mature class two years in succession, culminating in the Supreme Gold Award, in the first Australian National Grand Final, with South Devon Heifers.